Palais Sohan luxury villa in Marrakech
It offers a hotel service worthy of the best starred hotels in the red city. A team of 5 people (housekeeper, cook, cleaning lady, maintenance manager, gardener, guard) is present 24/24 to satisfy the slightest desires of its guest
Your next vacation in a private villa is waiting for you
Vacations with family or friends, private or professional events, seminars, themed courses... Palais Sohan opens the doors of exceptional residences with a hotel service.r.
A contemporary Villa with oriental and modern influences that will make you travel in the traditional Moroccan art. Designed by one of the best architects in Marrakech, Palais Sohan offers you a unique place with multiple inspirations. With its 7 magnificent suites with personalized decorations, you will travel to the very heart of the villa. Escape in the middle of the garden of scents, discover the multitude of colors that the Moroccan flora offers you and get refreshed on each of our private terraces. Palais Sohan also offers you a magnificent swimming pool, a spa with hammam to make your stay an unforgettable moment. Located a few minutes away from the center of Marrakech, discover the red city. Our villa takes you on an incredible journey to discover the Red City.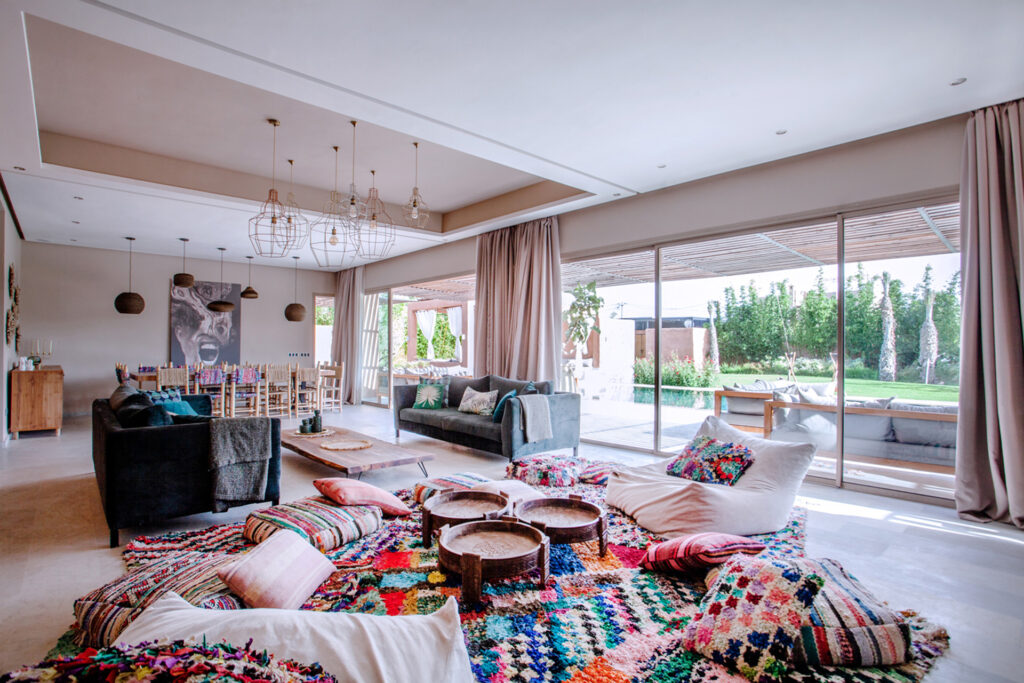 Palais Sohan can accommodate from 14 to 17 people. Additional beds available on request (20€/couch/day) from 14 people
A unique place with a wonderful view of the Atlas Mountains
Sport, nature, well-being, art of living, culture... The large space of Palais Sohan allows you to practice a multitude of activities on site. Our coaches have been selected for their sense of service and their attention to detail. Their mission is simple: to make your stay unforgettable.
Palais Sohan offers 650m2 of living space and has 7 spacious suites including 4 double rooms and 3 triple rooms. Each suite is equipped with a bathroom with Italian shower, toilet and dressing room, and a private terrace overlooking the garden.
Our house staff, our chefs, our coaches...you don't have to worry about a thing. Our team is here for you.
Read more about the experience of our travelers who stayed at Palais Sohan
The stay was perfect we never had that experience in marrakech service was amazing the food great thanks will come back soon
Hassania était tres accueillante, flexible sur l'horaire d'arrivée et de départ. Villa magnifique, très propre,le personnel était a nos petits soins et souriant alors que nous étions nombreux !
I had a production for a video clip in marrakesh and we stayed in the Villa (11 person). It was very clean, amazing service and a very great House. I would recommend it to 100%. Hope to see you again 🙂
La maison est encore plus jolie en vrai qu'en photo. La décoration est parfaite et la maison est très spacieuse : digne d'un hôtel (équipement avec serviettes propres tous les jours, savons....)
La villa est juste magnifique. Quand on croit avoir tout vu, on est encore impressionné par de nouvelles découvertes.
Le confort de la maison est exceptionnel ! La piscine est tres agréable tout comme le coin repas à l'exterieur. Les chambres sont tres spacieuses. Literie au top. Les repas proposés sont copieux.
Palais Sohan is a beautiful villa with excellent facilities and food. The villa is very clean and the staff are very accommodating, and went the extra mile to provide everything we needed.
Les échanges dès la réservation avec la propriétaire des lieux , l'accueil et la gentillesse du personnel , l'architecture et la déco de la maison , les repas , tout était parfait !